Woooweee! 
What a week it's been. 
After a 22 hour drive from New Orleans to Phoenix, Geli and I have parked the RV in the parking lot of the Arizona Casino—a place where, during my 7 AM trip to the bathroom, people were still stuffing pennies into slot machines, chasing the dream. 
Our week in New Orleans was packed full of experience—good and otherwise. 
We first spent two days camping in the swamps of Lake Charles, Louisina—very close to the Texas border. Two days of friendly locals, mind-blowing bayou landscapes, scaly wildlife, and late-night campfires was a perfect introduction to a state that neither of us had previously visited.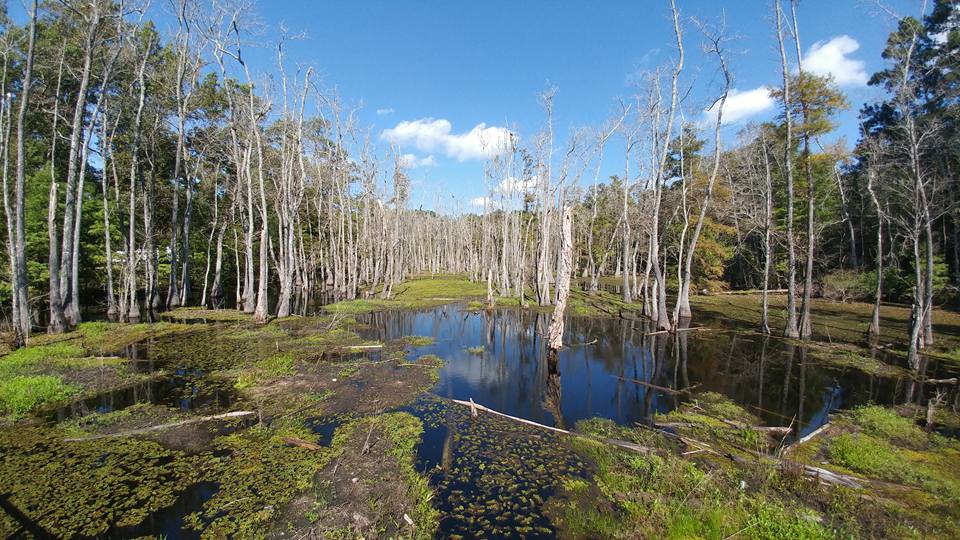 Geli and I also discovered that if you stuff peanut M&M's into a cooked marshmallow it makes an extremely tasty snack. We call them M&M&M's. 
Side note: Don't wear flip flops while walking through the grass in Louisiana, unless you'd like your toes to be feasted upon by hungry demon-bugs. 
After our two days in the swamp, Geli and I zipped over to New Orleans where we parked the RV at the Segnette Bayou, unhitched the Toyota Corolla shuttlecraft, and headed into the city for an open mic at Buffa's backroom—an old red-walled lounge that I imagine, back in the day, used to be filled with cigarette smoke and shady characters. 
I know two people in New Orleans—a magician who travels the country on his motorcycle and the best-dressed songwriter in the country. Within ten minutes of sitting down at this open mic, the magician walked into the bar. (Sounds like the set-up to a joke, doesn't it?) Considering the size of New Orleans, and the fact that neither of us knew that the other was in town, he and I saw this to be quite the coincidence. Geli's old roomate—who also lives in the Big Easy—joined us, and we all played music and listened to a series of talented and charismatic performers.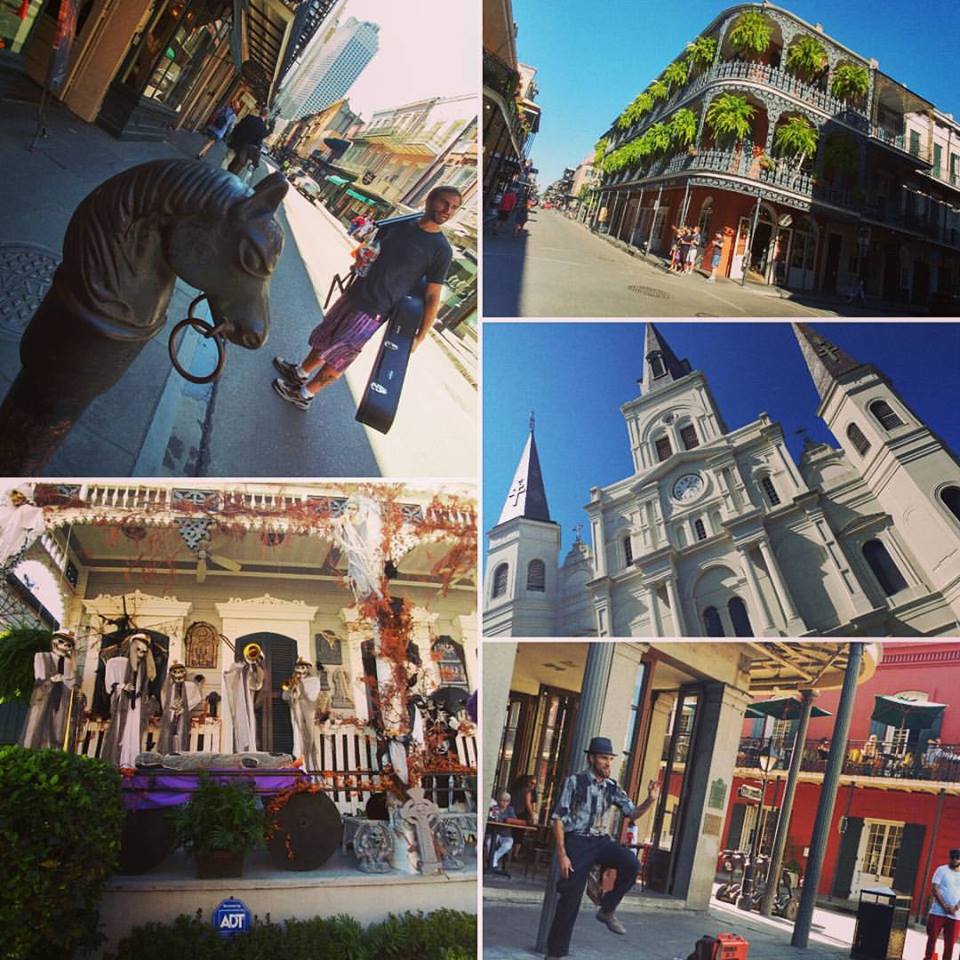 The next day Geli and I tried our hand at busking in the French Quarter. It was a hot and sticky afternoon; after hitting a few spots, we didn't make much money; so we decided to call it for the day and explore that very interesting and historic side of the city. Once we'd seen a few bands and eaten some crawfish, Geli and I headed to Neutral Grounds coffee where we played a set of original music for a small but attentive crowd. 
Friday was our tourist day. We learned a ton of cool facts about the city on a walking tour of the French Quarter that ended in one of New Orleans' above-ground cemeteries—a very creepy, but very cool place. Corpses are left in these elaborate tombs for at least a year and a day. After 366 days of "slow cremation", boiling in the Louisiana sun, the body will have decomposed enough to make room for the grave's next guest. Let that image sit with you for a bit. 
I'll wait.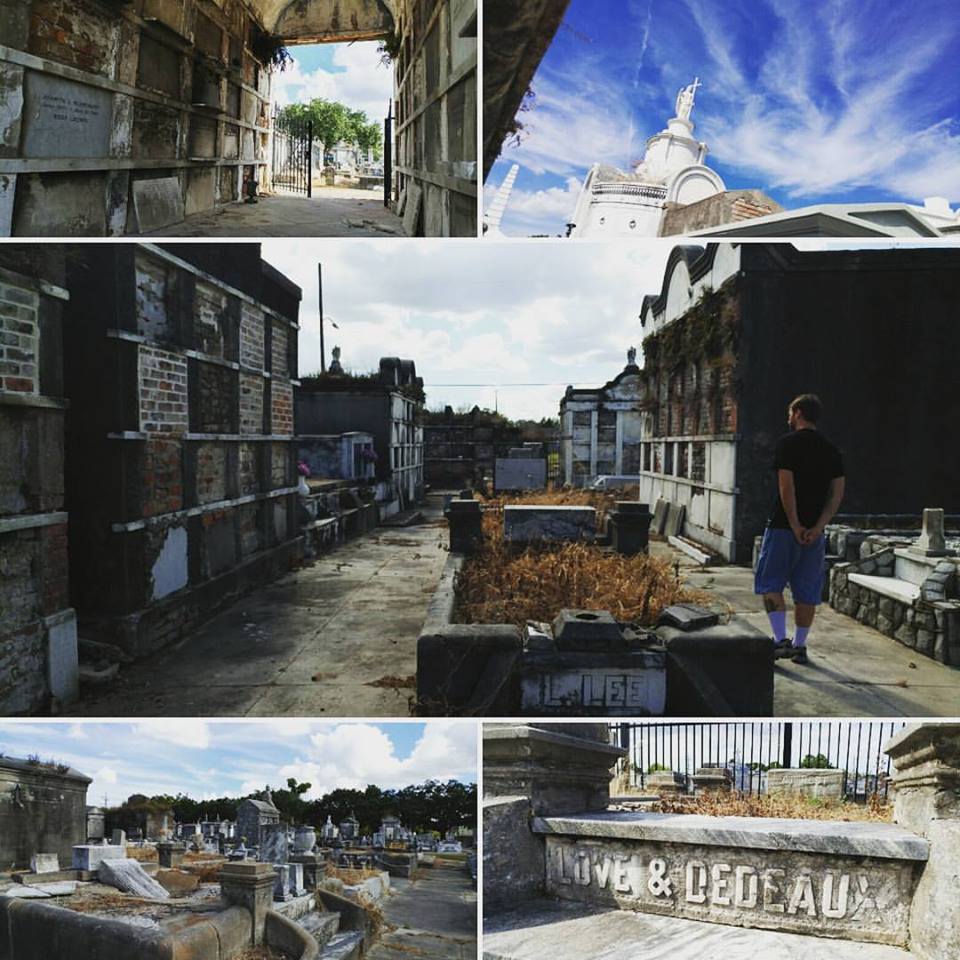 After wandering through a few cemeteries, Geli and I headed out to the swamp where we hopped into a fan boat with a buncha outta towners and were whisked through the canals by a very colorful (and very toothless) local. We saw a few alligators in their natural habitat and even got to hold a baby named Fluffly. I wanted to eat him, but Geli advised against it.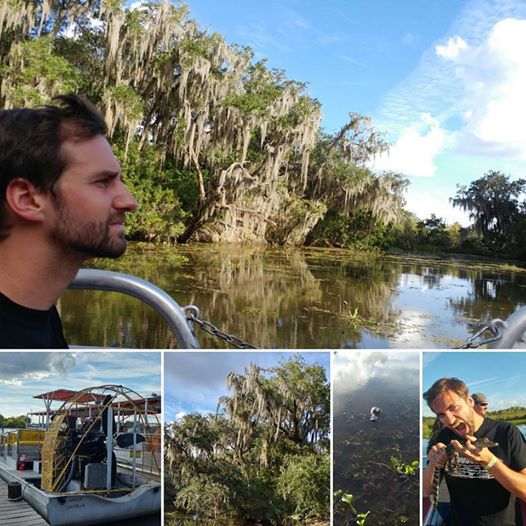 The next day we played a very lively gig on Frenchman Street at The Apple Barrel Bar. The highlight of the three hour show was a merging of a bachelor and bachelorette party. The tension was high between these two groups, and Geli and I felt that the only way to release the steam was to guide the bachelor and bachelorette through a dance-off to the tune of "Billie Jean". With their friends cheering them on and singing along, these two battled it out for a few minutes. At the end of the day, the bachelorette came out on top; though, the bachelor would never admit it. 
The rest of that night was spent wandering around with friends, checking out bands in various venues and on the street. Andre Lovett—a Seattle musician who had recently relocated to N'awlins—joined us for a while. He's the world's best-dressed songwriter, whom I mentioned earlier. Even in the sweltering Southern heat the man was rocking a full pastel-colored suit and bowtie. Style for days. 
After Geli got her tarot cards read by a woman on the street, we braved Bourbon street for only a few moments before we ran into a group of drunk college kids who tried to start a fight with us. We had stepped out of the way of their buddy who was hunched over on the street, thinking he was going to puke. Apparently, if you drink a beer upside down, it cures hiccups. One of his angry buddies had explained this to us—slurring speech with nothing behind his eyes—and told us to stop judging them. 
We laughed, told the group they were crazy, and moved on. 
The next day, Geli and I tried our hand at street performing again—Royal street this time—and had much more success. Geli even lent her violin to a girl who was in town for her sister's 21st birthday so she could play the birthday anthem for the special gal while we sang along. 
We decided to take our hard-earned cash and go get some gumbo at ####### (the name of this establishment has been censored to protect the guilty). This place came highly recommended by Geli's friend, who had shown us pictures of it underwater during Katrina. Geli and I sat down at the bar and watched the Saint's game with a few locals. When the my gumbo—and Geli's artichoke soup—came out, I had only chowed down on a few bites before I noticed a strange sight in my spoon—looked like a shrimp with some of the shell still on it. I didn't think much of it and bit into the little guy. 
The taste revealed that it was not shrimp. 
I quickly spit the unknown creature into my napkin and headed swifly for the bathroom when I recognized it. 
Cockroach. 
When I returned from a thourough mouth-rinsing, the staff apologized profusely and gave Geli and I anything we wanted to eat or drink for free. After sterilizing my mouth with a few shots of strong whiskey, I ate the rest of Geli's artichoke soup. She had lost her appetite; though, in between sips of daiquiri, she did muster up the courage to eat the fries that were soon set in front of us—investigating each bite very carefully. 
After our eventful lunch Geli and I played one more open mic and, the next morning, hit the road for the two-day drive to Arizona—where we've landed and are already having a blast. We're loving the sunshine, and can't wait to tell you all about the last leg of the tour. 
Until then, check your soup. 
You never know who may be hiding in there...