After Utah, Austin, New Orleans, and many stops in between, Geli and I had thought we'd seen it all on this tour. But nothing could prepare us for the beauty of Northern Arizona. 
Before we made our way toward Sedona, we parked the RV in the Scottsdale area for two days. Casino Arizona has a large vehicle parking lot where they allow folks to land for a few days in hopes that they will wander into the casino and spend a bit of cash. Geli and I decided to join the mobile neighborhood. 
We arrived on a Tuesday night and woke the next morning with the blazing sun. After a bit of breakfast we hiked Camelback Mountain—an elevation gain of about 1,300 ft in just over a mile. Hiking may not be the right word to describe this entire trek, as parts of the trail require you to scramble up the sandstone boulders on all fours. This, combined with the almost 100 degree heat, made our journey to the top challenging, yet very rewarding.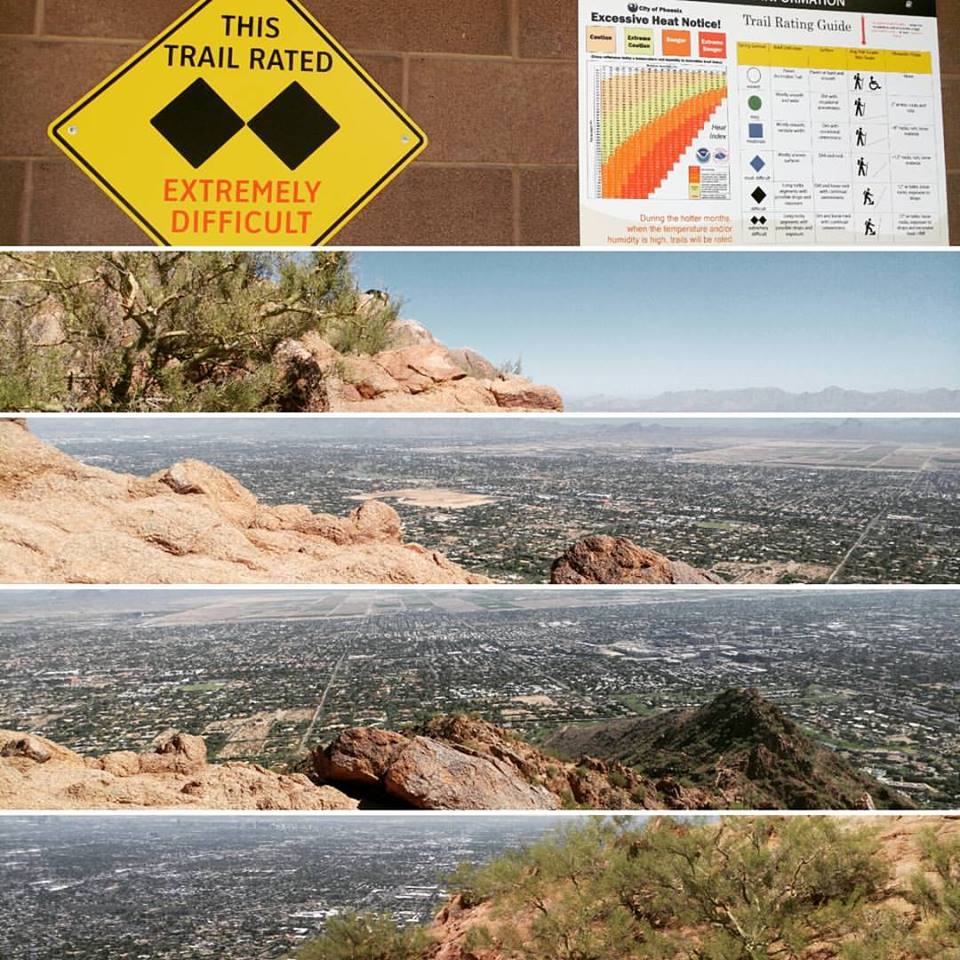 After lunch and a nap, Geli and I zipped over to Sip Coffee and Beer where we did a bit of office work--making booking phone calls and maintaining the band's online presence. During this time, we were told that Sip would be hosting an open mic later that evening. After our office work was done, we grabbed the instruments and played. The Scottsdale music scene was very communal and supportive. And the performers were all very talented. 
The next morning Geli and I played the 9 o'clock slot at a farmer's market in the aptly named Sun City. We enjoyed a warm reception—pun intended—while the big ball of fire in the sky beat down on us. After about an hour and a half of jamming for the snowbirds (many of them from Seattle), we decided to call it a day. As Geli and I were leaving several vendors showed their appreciation for the music by sending us home with some fresh local food. After we got back to the RV—which, remember, was parked at a casino—we pulled out the camping chairs and ate tamales, covered with fresh salsa, in afternoon heat. A very hillbilly-esque picnic. 
That night we played at the Rockbar in Scottsdale. The staff was great, and several folks came to see us who had heard our music via various online promotions that the venue had sponsored. A few folks from the previous night's open mic even came out to show their support. A great gig all around. 
The next day we loaded up the RV, kissed the casino goodbye, and headed into the hills. We parked the rig at a campsite with a beautiful view of the red rock about 20 minutes from Sedona. Then, following the advice of several folks, we headed up into the old mining town of Jerome, Arizona. After chowing down on some delicious barbecue, we wandered into a music shop where we met a local songwriter who invited us to his gig at a nearby winery. We drove down the hill and found the spot—an old bank converted into a tasting room, owned by the singer of a very prominent rock band. The place had old teller windows that sat behind racks of wine and a vault that had been converted into a merchandise room.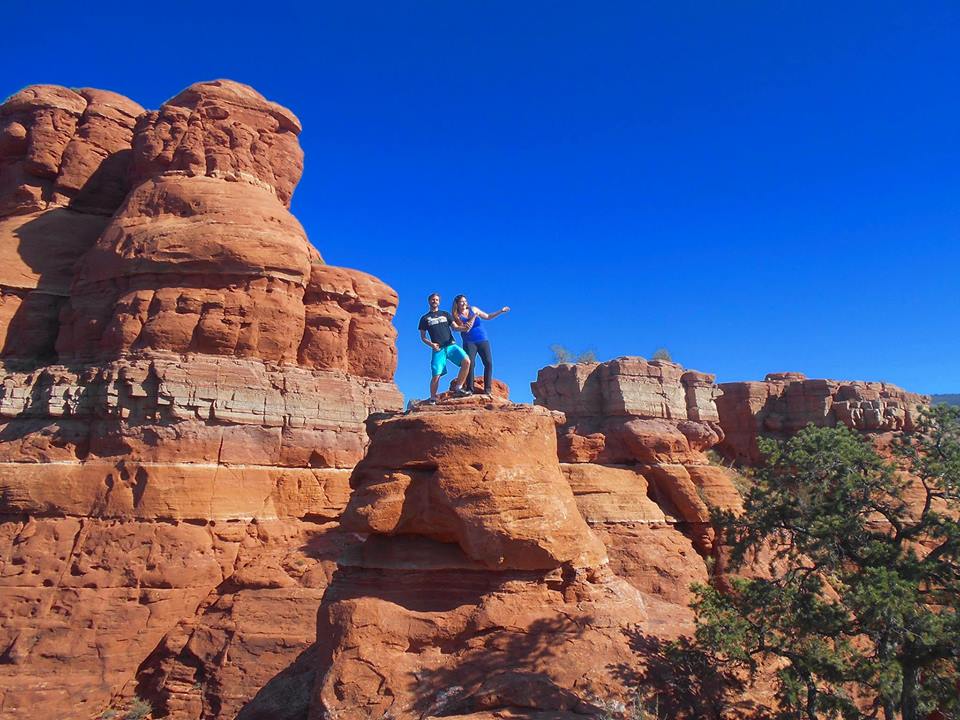 The next morning we rose early to climb Bell Rock—600 feet of crimson sandstone and limestone. The ascent was led by a retired New York attorney named Peter who, at 74, has made it his mission to take as many folks to the top as possible. There were 9 in our group, including a very brave 10 year old from Scotland named Vincent. By the end of the sometimes stomach-turning climb (don't look down!), all of us in the group were high-fiving, hugging, and snapping pictures. Crazy how quickly nine strangers can become family.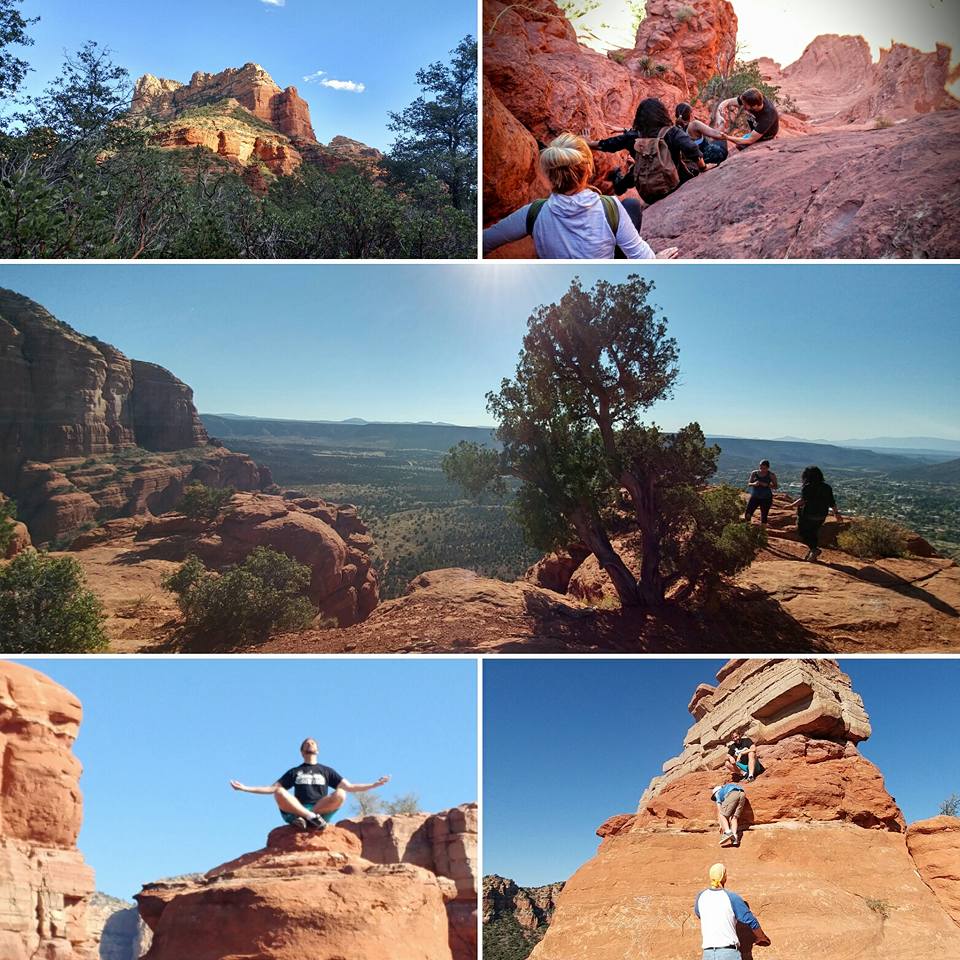 After descending from Bell Rock and grabbing some lunch, Geli and I decided that we were up for a second dose of red rock adventure and ventured out to Boynton Canyon. We hiked two and a half miles in—Geli with violin on her back and me carrying a burly guitar case. Definitely more of a workout than I'd anticipated, but well worth the pay-off when we arrived at the end of the hike and had the sandstone cathedral to ourselves. Geli and I cooled down for a moment before picking up our instruments and playing a short set for whatever ancient spirits may have been in attendance. Though we could have stayed and played for hours, the few stars twinkling in the darkening sky ushered us up the trail. We hustled back to the car as bats whizzed past our heads and light became scarce. By the time we found the Corolla (thanks to Geli remembering a few crucial forks in the path), it was completely dark. We celebrated our narrow escape from the canyon by heading into Cottonwood to hear some live music. Between a not-so-polished Johnny Cash cover band, a rock group in a grimy biker bar, and an acoustic guitarist dressed like Jack Sparrow, we had a pretty eventful evening. 
The next morning we hit downtown Sedona to do some street performing. While setting up our case on a busy sidewalk, we were instantly shooed away by an angry (and possibly sexually frustrated) shop owner. We set up further down the sidewalk—in an area free of bitchery—and played for a couple hours, making a good chunk of money and being joined at one point by a few women from a local gospel choir. 
After packing up, Geli and I headed to a nearby winery to watch a Phoenix songwriter play a set. She sounded great. On our way out of the place, I shook the manager's hand, and have since booked a gig at the spot for late January. In an age of doing everything by computer, I'm still a big believer in a good ol' fashioned handshake. Worth a thousand emails. 
That night we packed up and started heading north. The next night we hit Park City, Utah where we played a brewery and hung out with a few friends. Two days and about 900 miles later, we were home making gumbo for my roommates in Seattle. In case you've read the New Orleans blog, you'll be happy to know that we put fake cockroaches in the stew—a perfect ingredient for any Halloween-time supper. 
Geli and I have since played a few gigs here in town and are settling back into Northwest life. Wrapping up a tour is always bittersweet. We've had so many amazing experiences over the last month and, though it is nice to be home and see so many familiar faces, the road is already calling us—begging for the next adventure.