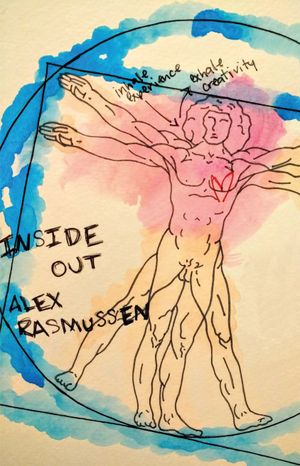 After almost four years of writing, re-writing, editing, and second-guessing, my first poetry collection, Inside out, is available for purchase in paperback or Kindle format on Amazon. 
"...the poems explore topics from love to loneliness, eccentric painters to hollow consumers. Each work is a piece of a puzzle which, once assembled, shows in vivid detail a life shaped by the journey from turbulent childhood to nomadic artist." 
Follow this link to check it out!
https://www.amazon.com/Inside-out-Alex-Rasmussen/dp/1790828384/ref=sr_1_1?ie=UTF8&qid=1548871756&sr=8-1&keywords=inside+out+alex+rasmussen
A huge thank you to editors Anna Eklund and Sarah Pasillas for your hard work and patience. 
Cover art by my very talented sister, Ashley Zuckerberg (Instagram: @fromatozcrafts).
Graphic design by the one and only Mario Di Sandro (Instagram: @disandroid).
Enjoy!